CleverSEPT hard-surface and hand disinfectant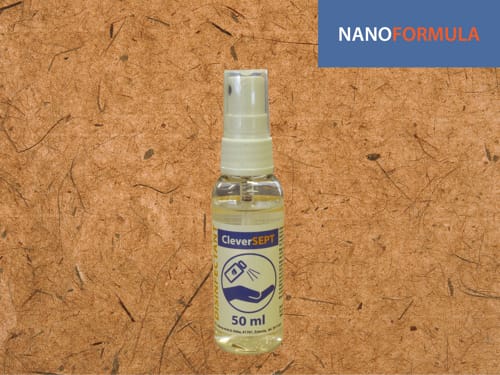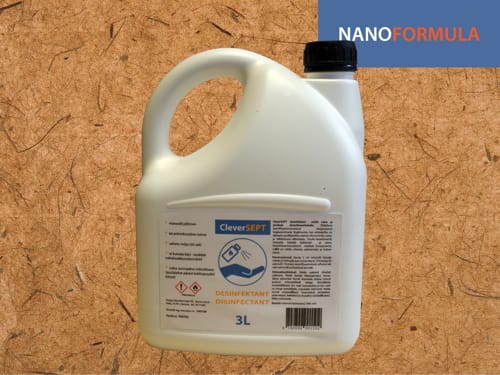 Wholesale prices from 1 carton:
16 x 50ml bottles;
20 x 100ml bottles;
8 x 300ml bottles;
5 x 3L canisters;
5 x 5L canisters.
Description
CleverSEPT is an alcohol-based hand and surface disinfector used in conditions of increased hygiene requirements, when disinfection of hands and surrounding surfaces is the most important preventive measure to prevent the spread of infection.
Viruses and bacteria on metal, plastic, glass and other hard surfaces remain active for up to 48 hours. Therefore, in addition to treating hands, it is imperative to regularly disinfect the surrounding surfaces. CleverSEPT disinfectant has a wide spectrum of bactericidal and fungicidal activity, kills gram-negative and gram-positive bacteria (including a tuberculosis agent) and fungi, deactivates both enveloped (including HBV, HIV, HCV, Vaccinia) and non-enveloped viruses (including Adeno, Rota).
CleverSEPT disinfectant uses pure and low volatile ethyl alcohol to prevent respiratory allergies. The product is colorless, fragrance-free and contains ingredients that soften, moisturize and protect the skin. When applied to the surface, it does not leave streaks. The disinfectant comes in the form of a liquid in spray bottles for convenient application and economical use.
The product is certified by the Estonian Health Department, Biocide Registration Number: 1901/20
Hygienic hand protection
Apply 3 ml of CleverSEPT Hand Sanitizer to your washed and dried hands and rub until completely dry. Exposure time 30 seconds.
Disinfection of surfaces
Thoroughly wipe on alcohol-resistant surfaces (glass, plastic, metal) with clean cloth moisten with CleverSEPT disinfectant. The surface must be completely covered with the product.
CleverSEPT hard-surface and hand disinfectant
Disinfectant for hands and surfaces
- based on ethanol, 70% min.;
- wide antimicrobial effect;
- quick action (30 sec);
- effect duration (3 hours);
- does not dry hands, contains components for skin care;
- normal skin microflora quickly recovers after application.
Observe safety instructions for use! Contains biocide! Read the user manual before use.
Caution! Highly flammable liquid and vapor. Keep away from heat, hot surfaces, sparks, flames and other sources of ignition.
Do not smoke, keep bottle tightly closed. Store in a well-ventilated place. Store in a cool place.
CleverSEPT packing
50ml CleverSEPT disinfectant for hands and surfaces:

50ml CleverSEPT disinfectant for hands and surfaces:
Carton: 16 bottles.
Dimensions: 13cm х 13cm х 14см.
Carton's gross weight: 1.02 kg

100ml CleverSEPT disinfectant for hands and surfaces:

Carton: 20 bottles.
Dimensions: 16cm х 21cm х 13см.
Carton's gross weight: 2.2 kg

300ml CleverSEPT disinfectant for hands and surfaces:

300ml CleverSEPT disinfectant for hands and surfaces:
Carton: 8 bottles.
Dimensions: 19cm х 21cm х 26cm.
Carton's gross weight: 2.7 kg

3L canister CleverSEPT disinfectant for hands and surfaces:

3L canister CleverSEPT disinfectant for hands and surfaces:
Carton: 5 canisters.
Dimensions: 39cm х 28cm х 26cm.
Carton's gross weight: 13.5 kg

5L canister CleverSEPT disinfectant for hands and surfaces:

5L canister CleverSEPT disinfectant for hands and surfaces:
Canister's dimensions: 12cm х 12cm х 30cm.
Gross weight: 4.5 kg